The best mastering worldwide...
EROC - more than 50 years of experience in music and studio:
1962 - 1966 First small recording studio facility with 2 tape-recordes
1966 - 1983 The Crew, Grobschnitt (Eroc 17 years as active musician, producer and technician)
1983 - 1998 Woodhouse Studio (Eroc 15 years as producer, engineer and studio-musician)
1998 - 2016 Eroc's Mastering Ranch (Eroc 18 years specialist for mastering technologies)
EMR - some well-known business partners:
Repertoire, Universal, Line-Music, BMG, Inside Out, SPV, Kamikaze, Nasoni, Neptun, Drakkar, Roadrunner, Spacelab Studios, Goldsound Music, M.i.G, Blue Valley, Decision Products...
EMR - more than 1.700 productions since 1998, each single one a reference for mix, mastering and remastering:

Productions from German und international acts in the passed 17 years, listed here in detail: Productions


...requires the best mix worldwide.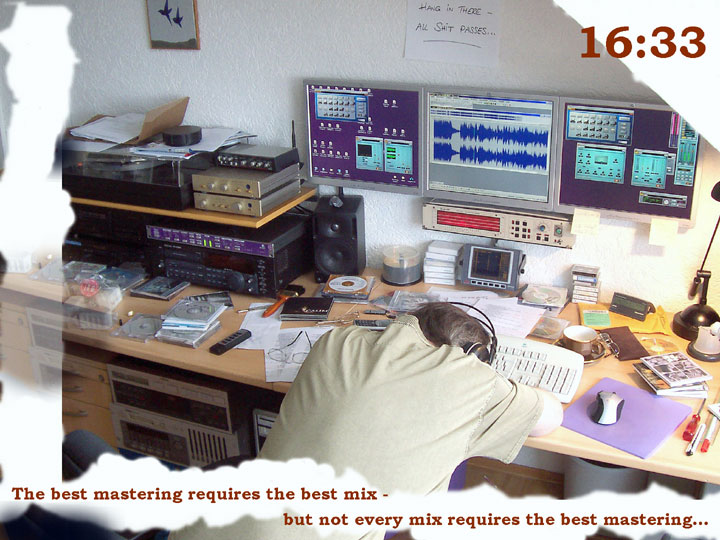 The basis for an efficient enhancement of sound (mastering) is the perfect mix. During the mastering process frequency response and compression are treated to get the sound into the direction of desired listening habits and references. It's obvious that this works more efficient the better the basic mix is. If all sonic proportions - single sounds and overall frequency response - are okay and the mix was professional done and at least slightly or better not compressed, the mastering as the "finishing touches" will attain the world reference class. If the mix contains defects the mastering process may cover them up a little, or on the other hand, actually points them out. So first and foremost step for a perfect mastering is a professional and qualified analysis of the source, something that's always guaranteed at EMR.
Each customer gets a free test-mastering of one track just to show what can be done to his mixes and where they probably will show defects. In case of defects we suggest changes and alterations for an optimal final result.
Mastering and remastering requires great experience since it's an art as well as a craft. Mastering means a great responsibility to the artists and all involved where nothing should be left to random chance. The saying "we'll fix everything during mastering" is as wrong as the eternal studio-lie "we'll get the ultimate bassdrum-sound in the mix". Every experienced craftsman knows: the perfect final result depends on the quality of the preparation.
Another important advantage at EMR: Eroc himself as a long-time musician is a real afficionado when it comes to sounds and music. Such disturbing things like time-stress, hourly wage and calculations are not applicable because pea-counting and compromises should have no room in music. Therefore at EMR, complete mastering with all necessary treatments costs a flatrate of Euro 55,- per song, regardless of the level of involvement. For a bunch of songs discount is possible. The customer receives listening-CDs or files via server with the results to be compared at leisure in private against other productions. If changes are then suggested these will be done by EMR for free. Only when total satisfaction has been attained the final master will be provided.

EMR handles all common formats like DDP files directly via DSL to the servers of the factories, normal audio-CD for simple copies, ISRC-code, UPC/EAN, CD-text, additional video-tracks and much more.
Treatments are exclusively done with CubeTec systems by use of tools with the ultimate digital resolution of 24 bits (32 FP) / 384 kHz, another argument for the best possible sound...


For more information on CubeTec International check out: http://www.cube-tec.de